Cattle herds in the six-monthly testing parts of the Edge Area that meet certain criteria are eligible for annual surveillance testing since May 2019.
The Edge Area was established in January 2013 as part of the government's Strategy for achieving officially TB free (OTF) status for England. Despite Defra implementing enhanced TB surveillance and control measures in cattle from 2013, the overall level of bovine TB in the Edge Area has increased. In all Edge Area counties, infection is being introduced into herds as a result of purchase of cattle with undisclosed infection, usually from the High Risk Area (HRA) but also from other parts of the Edge Area. Direct or indirect contact with infected badgers is also believed to play a role in several counties. 
In most Edge Area counties there is evidence that infected herds are being discovered sooner after infection is introduced than in the past, indicating some success in control measures. However, it is essential that surveillance and control measures are strengthened to reverse the trend of rising levels of bovine TB and halt the spread of disease.
In January 2018, changes were made to the Edge Area boundaries and counties that were previously split between Edge and HRA were incorporated fully into the Edge Area. Changes were also made to routine surveillance testing in some Edge Area counties.
Annual surveillance testing for lower risk herds in the six-monthly testing parts of the Edge Area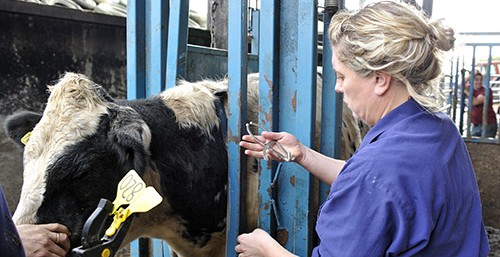 All cattle herds in the high bovine TB incidence counties of Cheshire, Oxfordshire, and Warwickshire and in parts of Berkshire, Hampshire and Derbyshire are subject to routine six-monthly surveillance testing.
Since May 2019, cattle herds in these parts of the Edge Area are eligible for annual surveillance testing if they meet either of the following criteria:
the herd has been in existence for at least six years and has not had a TB breakdown in that six year period. A single break from keeping cattle of less than four months during the six year period is permitted.
the herd is registered to a bovine TB health scheme accredited under the Cattle Health Certification Standards (CHECS) at level 1 or above.
Please note that the Animal and Plant Health Agency (APHA) has temporarily paused the support it provides to the health scheme providers with processing applications for CHECS TB herd accreditation. This means that, currently, new applicants wishing to secure CHECS TB accreditation for their herd will not benefit from reduced surveillance TB testing (earned recognition). This temporary pause in the processing of new applications does not affect earned recognition for existing CHECS TB accredited herds. The decision to pause this support to CHECS is in response to diversion of APHA resources normally devoted to this activity to processing import applications from Ukrainian refugees for their pets, as well as to controlling the largest outbreak of highly pathogenic avian influenza ever seen in GB. APHA is periodically reassessing the situation and is committed to restarting this work as soon as possible.