Badgers can act as a wildlife reservoir for Mycobacterium bovis, the bacterium which causes TB in cattle. Badger vaccination aims to reduce the spread of the disease in the badger population with the intention of reducing the risk of cattle contracting TB. Vaccination of badgers against TB using the BCG vaccine provides a level of protection and can play a role in limiting TB spread to healthy badger populations.  
Badger Edge Vaccination Scheme (BEVS 2)
To help prevent the spread of the disease to new areas of the country, a third round of applications for the 'Badger Edge Vaccination Scheme' (BEVS 2) closed in August 2019, with further grant funding available to private groups wishing to carry out badger vaccination in the Edge Area of England. Groups will receive at least 50% funding towards their eligible costs and training will be provided free of charge. This builds on the four initial four-year projects Defra has funded. We hope this will help create buffer zones between areas which have the disease and those that are disease-free.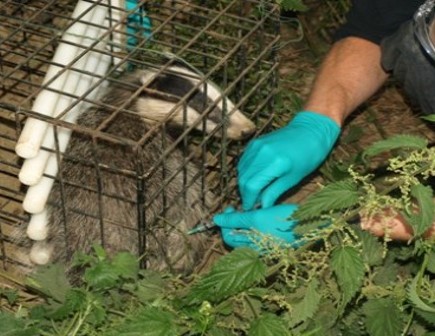 Planning a badger vaccination project 
Delivering a badger vaccination project requires careful planning. The correct licences need to be obtained from Natural England, and training courses in trapping and vaccinating badgers need to be undertaken. Read these practical step by step guides by Dr Andy Robertson on planning a badger vaccination project and the process of badger vaccination.