Badgers can act as a wildlife reservoir for Mycobacterium bovis, the bacterium which causes TB in cattle. Badger vaccination aims to reduce the spread of the disease in the badger population with the intention of reducing the risk of cattle contracting TB. Vaccination of badgers against TB using the BCG vaccine provides a level of protection and can play a role in limiting TB spread to healthy badger populations.  
Badger Edge Vaccination Scheme (BEVS 2)
To help prevent the spread of the disease to new areas of the country, a third round of applications for the 'Badger Edge Vaccination Scheme' (BEVS 2) closed in August 2019, with further grant funding available to private groups wishing to carry out badger vaccination in the Edge Area of England. Groups will receive at least 50% funding towards their eligible costs and training will be provided free of charge. This builds on the four initial four-year projects Defra has funded. This project aims to create buffer zones between areas which have the disease and those that are disease-free.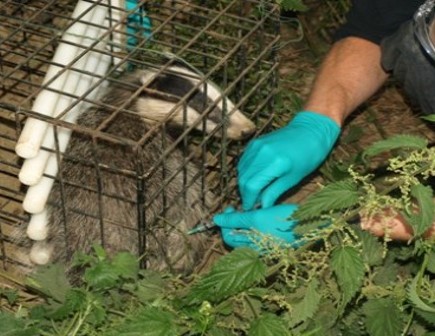 Vaccinating East Sussex Badgers (VESBA)
In April 2021 the government awarded funding to a local veterinary group to deploy a five-year badger vaccination scheme in East Sussex. The scheme is one part of the government's commitment to transition to non-lethal control measures to help eradicate bovine tuberculosis in England. It will pilot vaccination deployed by the farming community on a large-scale. It will serve as an invaluable learning experience in determining how best to deploy farmer-led vaccination at scale in the future.
The scheme will cover across 250km2 of unculled land in the stable bTB endemic area of East Sussex. Vaccination in the endemic area reflects Defra's ambition to deploy badger vaccination in areas where lethal badger control (culling) has not taken place and is unlikely to do so. Farmers and landowners located in East Sussex who are interested in joining the scheme or allowing badger vaccination on their land should email [email protected]
Defra has agreed to pay 100% of the costs for this scheme.
Planning a badger vaccination project
Delivering a badger vaccination project requires careful planning. You'll need to apply for a licence from Natural England to take and mark badgers to enable vaccination . For each person intending to act under the licence, you'll need to evidence that they have completed the relevant training courses in cage-trapping and vaccinating badgers. Read these practical step by step guides by Dr Andy Robertson on planning a badger vaccination project and the process of badger vaccination.
Advice on how to apply for a licence is available on GOV.UK.
Training to vaccinate badgers
Defra is taking steps to increase training and industry capability for the widespread deployment of badger vaccination. Specifically:
The government has developed a 'Train the Trainer' course to enable experienced cage-trappers and lay vaccinators to qualify as trainers and form their own local training hubs. This alleviates pressure on the Animal & Plant Health Agency (APHA), who to date has been the sole training provider.
Defra has fast-tracked industry recommended individuals who are already approved by Natural England to deliver cage-trap training for culling operations, to become lay vaccinators. This should enable industry recommended individuals to qualify and deliver training under the 'Train the Trainer' model during future vaccination seasons.
Defra has streamlined vaccination training courses to reduce the cost and time commitment, making courses more accessible, meaning more individuals can be trained per season.
To express your interest in and check your eligibility to attend a 'Train the Trainer' course, contact Natural England at [email protected]. Only individuals with at least one year of practical badger trapping and vaccination experience are eligible to attend this course.
For more information on undertaking training to vaccinate badgers please see our guidance on GOV.UK.